---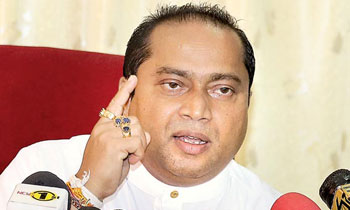 Western Province Chief Minister Isura Devapriya today rejected the statement made by the Megapolis Ministry claiming that the British Company introduced by him was not equipped with technical or fiscal capability to execute a project to generate electricity from garbage collected at Meethotamulla.
Chief Minister Devapriya told a media briefing that the statement made by the Ministry was completely false and added that he had proposed the special project to remove the garbage from Meethotamulla.
"There is no use of talking about it since everything was over now. I did not get a chance to implement that project. However, we have never planned to generate electricity from the garbage collected at Meethotamulla as per the claims made by the Ministry," he said.
He said a team of several senior officials attached to the Central Environmental Authority and the Waste Management Authority had appointed to evaluate this project.
"This team has gone to the UK to evaluate the firm and those officials have recommended it as a feasible project. I have never been to UK for any work attached to this project," he said.
He also said that it would be a successful project if it would be implemented and reiterated that he had requested a land block of 60 perches near the Meethotamulla garbage dump to implement the project, from the Urban Development Authority (UDA).
However, the Ministry said that the company had requested a land block of three acres. (Kalathma Jayawardhane)
Video by Sanjeewa