---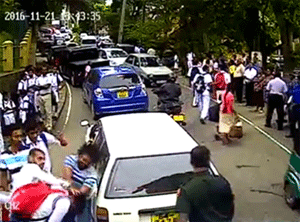 Police and Education officials have launched separate investigations on the incident in which a student of the Dharmaraja College in Kandy was beaten up by the school gate.
The Kandy Police said today that however there was no complaint lodged over the incident. They said they were conducting investigations based on the video that went viral in the social media.
The Principal however said the parents of the students had arrived at a settlement.
The Principal had stated that a Year 13 student had been advised by a Year 12 Prefect to cut his hair short, and this had resulted in a brawl outside the school premises.
The Principal said that school teachers, including him, strongly condemned the act.
The students had later informed the incident to their parents and a settlement had been reached by both parties, the Principal.
Meanwhile, the Education Ministry Media Secretary Kalipa Gunarathne said the Ministry could not interfere in the incident, because there was no complaint lodged and also the incident had taken place outside the school premises.
Even the school Principal had no authority to intervene in the incident, he said.
Meanwhile, Kandy Provincial Education Director E.T.P.K. Ekanayake said there was no investigation initiated so far but there was an investigation carried out by the Kandy Zonal Education office.
He said the school Principal had also informed him about the investigation by the Police and he would give his support to initiate any legal action.
A video footage went viral on social media, which showed a student of a leading boys' school in Kandy, being beaten up by a gang of men at the school gate. According to the video's date, the incident had taken place on Monday at 1.43 p.m.
The incident seems to have happened just after school in the presence of parents and students but none of them had come to this boy's rescue. The men, who attacked him had fled the scene un-obstructed. (Chaturanga Pradeep)