---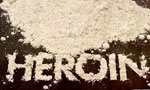 A 31-year-old Indian man was arrested by the Police Narcotic Bureau (PNB) officers yesterday while attempting to smuggle in heroin worth Rs.10 million to the country.
The suspect was arrested at the arrival lounge of the Katunayaka Bandaranaike International Airport (BIA) yesterday afternoon. The suspect, who is a businessman, had arrived from Chennai, India.
The haul of heroin which weighed 1.4 kilogrammes was found concealed around his waist in polythene bags.
The suspect was produced in the Negombo Magistrate's Court yesterday. The Magistrate had ordered to detain the suspect for seven days and hand him over to the PNB to conduct further investigations. (T.K.G. Kapila)