---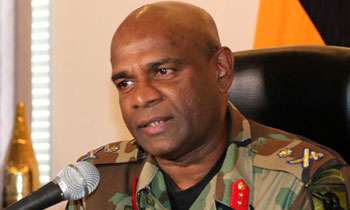 The mobs operating in the North can be contained if the Army is given the necessary powers even for a limited period of time, Army Commander Lieutenant General Mahesh Senanayake said today.
He said this to journalists after visiting the Dalada Maligawa in Kandy to seek blessings for the Sri Lanka Army on its 69th Anniversary.
The Commander said the Army would fulfil its duties should the government decide to give more powers to the army.
"National security is something all citizens are entitled to. The Army is strong and national security is one of its main duties. We know better about national security than others. Nothing has changed. It is the army which secured victory for Sri Lanka in its fight against the LTTE. Similarly, the army will be always ready with its services to safeguard the country," he said.
The Commander said any decision with regard to army camps were being taken after discussions with the army. "Therefore, camps are not being removed in an arbitrary manner. However, the army is ready to re-organise and re-situate the camps to ensure national security," he said.(Nadeeka Daya Bandara)