---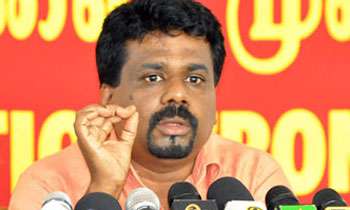 The Janatha Vimukthi Peramuna (JVP) said today the government had no moral right to restrict the import of goods as a solution to the economic crisis while government members including the President, Prime Minister and ministers were wasting public money to import vehicles worth millions and tour the globe accompanied by large delegations.
JVP leader Anura Kumara Dissanayake told a news conference that it was ludicrous for the government to point out that it had restricted the import of vehicles including those for MPs on duty-free permits because the MPs had already imported vehicles worth millions of rupees.
"The Prime Minister has imported two vehicles worth about Rs.600 million. He even comes to parliament from Temple Trees on the helicopter. He does not even travel 60 km in these vehicles. The President has also imported two such vehicles. Ministers have also imported vehicles worth millions soon after they assumed duties as ministers. Ministers are touring the world every week or two. The President was accompanied by a 63-member delegation including relatives, staff and journalists to the UN. They spend at will," he said.
Mr. Dissanayake said suspension of permits at this juncture would not affect the MPs but it would only affect the public servants.
"Some government servants had sold their old vehicles with the hope of buying new vehicles. But they have lost even the old vehicle. The government asks the people to fasten their belts while they lead luxury lives,' he said and added that the measures taken by the government to alleviate the economic crisis had failed and instead had aggravated the crisis.
Mr. Dissanayake said the JVP had organized a series of protests against the government's worthless economic strategies such as increasing the price of goods, increasing tax. He said the first in the series would be held in Colombo on 23 with the help of youth, the farming community and the working people.
"The recent protest held by the opposition became a drama. We hope to organize a true people's protest,' he said.(Ajith Siriwardana)