---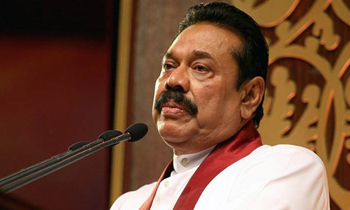 Referring to the recent revelations on phone records at the Bond Commission, former president Mahinda Rajapaksa said yesterday the government was attempting to establish a 'Police State' by tapping phones.
He told the media outside the Welikada Prison that all phones were tapped and Prime Minister Ranil Wickremesinghe and the government should clarify this matter.
Mr. Rajapaksa said when considering what was happening now it was doubtful whether the phones of the Prime Minister and President Maithripala Sirisena were also tapped.
"We thought that only the phone conversations of the opposition parties were tapped, but now it is evident that even government parliamentarians and ministers, members of the opposition, businessmen and lawyers are subjected to this treatment," he said.
Mr. Rajapaksa said this could be regarded as a dangerous situation though some people may consider it a joke and the government was on a mission to collect information even though people could not understand it.
He said the Prime Minister should be summoned to the Presidential Commission of Inquiry (PCoI).
"Another important issue has arisen, where, while an investigation is pending in Parliament, the parliamentarians were reported to have to those involved in the bond issue. It is another question now," Mr. Rajapaksa said and added that it was evident they were listening to phone conversations which could be considered as a dangerous situation, and it was a threat to the privacy of the people. (Kalathma Jayawardhane)
Video by RM