---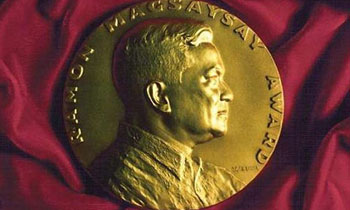 Gethsie Shanmugam, an 82-year-old Sri Lankan teacher who counseled war widows and orphans to overcome their nightmares are among the six winners of this year's Ramon Magsaysay Awards, the Hindu reported today.
Ramon Magsaysay Awards, which is regarded as Asia's version of the Nobel Prize, was named after the Philippine President who died in a 1957 plane crash.
Ms. Shanmugam and the other five recipients had been named on Thursday and the awards are to be presented to them in Manila on August 31.
The Ramon Magsaysay Award Foundation said Ms. Shanmugam, a teacher and psychological counselor, won for braving bombings and threats of arrests in conflict zones to counsel war widows, orphans and children traumatized by three decades of brutal civil war.
"The winners were unafraid to take on large causes and refused to give up, despite meager resources, daunting adversity and strong opposition. Their approaches are all deeply anchored on a respect for human dignity and a faith in the power of collective endeavor," said Foundation's President Carmencita Abella.
Yoshiaki Ishizawa, a 79-year-ol Japanese historian who helped Cambodians preserve the Angkor temples, Abdon Nababan, an Indonesian working for the return of large tracts of forest land to indigenous communities, a Singaporean businessman Tony Tay, who leads the cooking of 6,000 meals a day for the destitute, the Philippine Educational Theater Association, a theater group which stood up to a dictatorship and Lilia de Lima, a Filipino who oversaw the opening of job-generating export processing zones are the other recipients of the Magsaysay awards.