---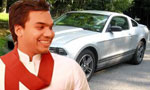 A Ford Mustang type car suspected to be owned by Parliamentarian Namal Rajapaksa was found from the Kaduwela area this afternoon by Financial Crimes Investigation Division (FCID) officials, sources said.
According to FCID sources, the car was allegedly used by Mr. Rajapaksa in 2010.
Sources said the FCID is recording a statement from one person for keeping the car.
However, there was no official confirmation regarding the incident by the Police yet.
Video by Buddhi