---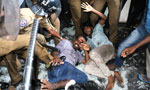 Frontline Socialist Party (FSP) Propaganda Secretary Pubudu Jagoda and Central Committee Member Sujith Kuruwita were arrested by the Maradana Police today.
The arrests were made after they were summoned to the Maradana Police to record a statement on the tense situation that prevailed at the Immigration and Emigration Department in Borella on April 1.
A heated argument between FSP members and the Police led to a clash when the protesters attempted to enter the building after breaking open the glass doors.
The main demand by the protesters was that FSP politburo member Kumar Gunaratnam be granted dual citizenship.
FSP Politburo Member Duminda Nagamuwa told Daily Mirror that an unidentified group of people claiming to be from the police had attempted to arrest Sujith Kuruwita two days ago while he was at his home.
However, they were unable to make the arrest as they had failed to produce an arrest warrant.
The group had left after asking him to surrender to the police.
Meanwhile, Mr. Nagamuwa claimed that according to the police 13 more FSP members were to be arrested soon in connection with this incident. (Piyumi Fonseka)
Video by Chamilka