---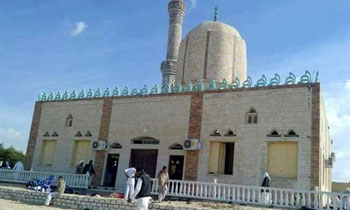 At least 235 people have been killed and scores more injured in a bomb and gun assault on a mosque in Egypt's north Sinai, in one of the deadliest attacks in the country in recent memory, the Guardian today reported.
The attack marks a major escalation in Cairo's battle with regional insurgents. The death toll, reported by state media, rose repeatedly on Friday afternoon as more details emerged.
A bomb ripped through the mosque as Friday prayers were finishing, then militants in four off-road vehicles approached and opened fire on worshippers, a military source told the Guardian.
More than 50 ambulances ferried casualties from al-Rawdah mosque in Bir al-Abed, around 40km west of the city of Arish city, to nearby hospitals. At least 130 people were injured.
No group claimed responsibility for the assault, but it was the deadliest yet in a region where for the past three years Egyptian security forces have battled an Islamic State insurgency that has killed hundreds of police and soldiers.
One witness, a shop owner from Bir al-Abed, said local people heard a massive blast followed by gunfire. When he arrived at the site of the attack he saw local people rushing to pick up the bodies and to offer help to the injured. He said he saw at least 20 bodies wrapped in cloth.
One resident whose relatives were at the scene told Reuters that the attackers shot at people as they left the mosque, and also at the ambulances.
The mosque belongs to a Sufi order – a mystical branch of Islam whose followers are regarded by hardline Islamists as apostates because they revere saints and shrines.
The attack came days before the annual celebrations of the prophet Muhammad's birthday, which is celebrated by Muslims in Egypt. Festivals are being held by Sufi-affiliated mosques around the country.
Egypt's president, Abdel Fatah al-Sisi, a former armed forces commander who presents himself as a bulwark against Islamist militants in the region, convened an emergency security meeting after the attack and declared three days of mourning.
Militant attacks have mostly targeted security forces since bloodshed in the Sinai worsened after Sisi led the overthrow of President Mohamed Morsi of the Muslim Brotherhood in 2013.
But jihadis have also targeted Sinai tribes that are working with the armed forces, branding them traitors for their cooperation.