---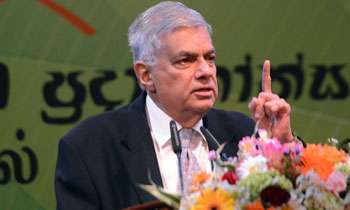 The Ministry of Education has been violating the Constitution in appointing teachers for the past 30 years, Prime Minister Ranil Wickremesinghe said today.
Prime Minister Wickremesinghe came out with this statement at the launch of Subaga Scholarship scheme for school children at Temple Trees last morning.
"A clause was included in the 13th Amendment to the Constitution that only teachers who hold a degree or a diploma should be appointed to schools run by the central government and provincial councils. However it was changed later temporarily allowing those in other fields to be appointed as teachers. This change was effective only for a certain period. However this procedure has been continuing for the last 30 years violating the Constitution," the Prime Minister said.
He said the government has decided to only appoint those possessing relevant degrees and diplomas as teachers.
The Prime Minister said Finland had agreed to assist Sri Lanka in changing its education policy. "We have decided to include vocational training subjects in the school curriculum and Finland will support us in this endeavour," he said while stating that the USA would provide training to English teachers.
The Prime Minister added that the intention of the government was to allow children who excel in sports and other fields such as performing arts to pursue a career in those areas. (Yohan Perera)
Video by Buddhi