---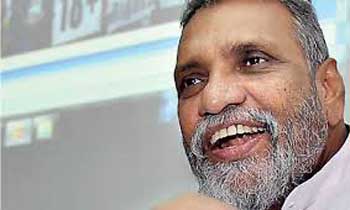 Elections Commission Chairman Mahinda Deshapriya yesterday briefed representatives of the political parties about electioneering under the new system in view of the upcoming local government elections, it is learnt.
The meeting took place yesterday evening in his office. He briefed them about the procedure set out regarding vote canvassing, the handing over of nomination papers, vote counting at polling stations and the presence of political party representatives.
Mr. Deshapriya said the elections could be conducted well within the month of January, 2018 if the gazette notification, announcing the number of members to be elected to each ward, were released before December 7.
After a meeting chaired by Prime Minister Ranil Wickremesinghe recently, some ruling party politicians announced January 27 as the day of polling.
In response, Mr. Deshapriya conveyed his displeasure about such announcement saying it was a matter for his office to decide. Incensed by such announcement, he said the Commission would not dare to conduct polling on a day other than January 27.
The local government elections will be conducted for the first time under a new system in January, next year. It is a mix of the First Past the Post System and the Proportional Representation System. Mr. Deshapriya said he would not favour conducting the polls in December because of the G.C.E. Ordinary Level Examination scheduled. Also, he said if the elections were to be conducted early January, the latter part of December would have to be dedicated as part of the canvassing period.
"It will also affect the exam activities," he said.
Therefore, it transpired that the day of polling would fall towards the end of January. Most likely, it will be either January 20 or 27.
Government representative Deputy Minister Lasantha Alagiyawanna said the gazette notification would be released within the next couple of days. (Kelum Bandara)