---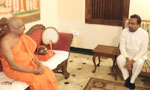 Causing unnecessary fear among the people on the Constitutional proposals and then saying tall tales is unacceptable and unhealthy, the Siyam Nikaye Malwatta Chapter Mahanayake Thibbatuwawe Sri Siddhartha Sumangala Thera told MP Wimal Weerawansa today.
This had transpired when National Freedom Front (NFF) members including Mr. Weerawansa met the Mahanayakeat the Asgiriya Malwatu Maha Viharaya in Kandy to update him about their stance on Constitutional reforms.
The MP told him that the new Constitution would harm the unitary status of the country.
The Mahanayake told Mr. Weerawansa that President Mairthripala Sirisena and Prime Minister Ranil Wickremesinghe had assured him that any proposal that encourages separatism won't be included in the Constitution.
Since the Constitution will be put to a referendum, the thera asked him and other NFF members not to be unnecessarily alarmed about it. (Chamil Rupasinghe and Nadeeka Daya Bandara)
Video by Nadeeka Daya Bandara