---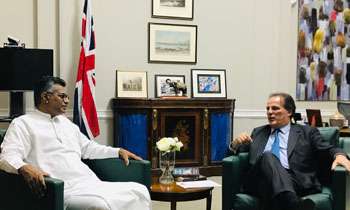 The Sri Lankan Government had highlighted the British Government the importance of implementing its Terrorism Laws and taking stern action against the four individuals who were arrested for displaying the LTTE flags.
Megapolis and Western Development Minister Patali Champika Ranwaka, who was in the UK, had expressed these views when he met with Mark Field, Minister for Asia and Pacific at the Foreign and Commonwealth Office in London.
The minister was referring to the recent incident where Thames Valley Police arrested four activists of the Transnational Government of Tamil Eelam for exhibiting LTTE flags and other insignia.
He said he hoped that British law enforcement authorities would ensure that UK's own Terrorism Laws were correctly observed and that stern action would be taken against appropriate individuals, as these acts by extremists go directly against the reconciliation processes being encouraged in Sri Lanka by the British government.
Sri Lanka's UNHRC Resolution, which was co-sponsored with other nations including UK, was also discussed and Minister Ranawaka had reassured that the Sri Lankan government was maintaining its commitment to ensure that all communities enjoyed lasting peace and reconciliation.
At a separate meeting in the House of Lords, Lord Naseby, President of the All Party Parliamentary Group for Sri Lanka was also briefed by Minister Ranawaka on the preparations being discussed in Cabinet for the next UNHRC Geneva Sessions in March 2019.
Lord Naseby had stressed that Sri Lanka's Govt should adopt a firm stance and mentioned the importance of repealing the current Prevention of Terrorism Act and introducing fresh Counter Terrorism legislation as soon as possible.
The highlight of Minister Ranawaka's visit was a London Investment forum that attracted a host of British and international companies and institutions to present the considerable business opportunities in Sri Lanka being offered through the implementation of the various Megapolis projects and especially the current development of Port City Colombo.