---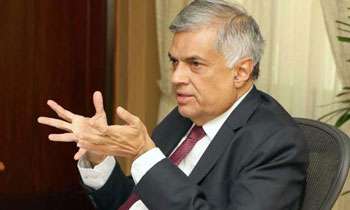 Prime Minister Ranil Wickremesinghe said today the introduction of a digital law was necessary to give a timeline for state institutions to digitize their services.
He said this on the occasion to mark International Day for the Universal Access to Information.
"There is an initiative to digitize the entire government process. The Digital Infrastructure Minister has briefed me about some major achievements on that matter but some sectors are slow. This is why it is necessary to introduce a digital law. Some of the issues addressed in this legislation will be the reduction of face to face meetings but there is a long way to go before we achieve our objectives," the Prime Minister said.
"As a result of promoting the knowledge industry we have to make that commitment to open access. Information available will change the learning structure, especially the higher education system. In doing so there are many initiatives which we have undertaken. The relevant ministers have already discussed the digital economic strategy. I hope it will be approved by the cabinet next week or the week after. We are now studying on making Sri Lanka a logistics centre and also on the possibility of starting an off shore financial centre," he said.
"This legislation is being discussed. That again is a basis for knowledge industry. It changes the way in which business is done and therefore Sri Lanka would become a business centre. I will be meeting with Sri Lanka Association of Software Service Companies (SLASSCOM) after I return from Norway to discuss special tax incentives that will be made available to the industry in next year." he added.
The Prime Minister highlighted the need to look to the future and ask ourselves where Sri Lanka's future was.
"We are a small country located in the middle of Indian Ocean. Our markets are limited. We have to look for skills which we have to utilize and build on. If you identify them, you come up with niche market manufacturing and becoming a part of global value chain. Second is tourism and thirdly the logistics as we are at the middle of Indian Ocean. The fourth is the knowledge industry, the total knowledge industry is our future," he said.
Telecom, Digital Infrastructure Development and Foreign Employment Minister Harin Fernando said his ministry together with the Ministry of Education had introduced new technology such as Internet of Things (IOT). "We have initiated the first ever artificial intelligence driven chat-box solution for the government information Centre GIC 1919," the Minister said. Government had liberalized the telecommunications sector , promoted healthy competition in private sector and had deployed South Asia's first commercially operating 3G and 4G connectivity technologies.
Education Minister Akila Viraj Kariyawasam said his ministry was committed to prepare the younger generation to face the changing world where Apps are the order of the day. He said this will be done by distributing tabs to schoolchildren hoped to increase IT literacy in the country to 100 per cent. (Yohan Perera)