---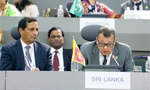 Achieving Development Goals is impossible without good governance, rule of law and respect for human rights, Skills Development and Vocational Training Minister Mahinda Samarasinghe said.
Addressing the 17th Non-Aligned Movement's summit held in Venezuela as the Special Envoy of President Maithripala Sirisena, the minister said in order to achieve sustainable development, there must be global peace and security.
"Our threefold aim is to strengthen democracy, attain peace through reconciliation and foster economic development. To support this process, we are in deliberations to introduce a new constitutional instrument that will help attain our goals. The present Government of President Sirisena, voted into office by all segments of the Sri Lankan population, is based on the principles of consensus building and national unity. It is committed to reconstruction and economic advancement leading to comprehensive reconciliation," he said.
He added that Sri Lanka remains firmly committed to ensure that "no one is left behind" in line with the key principle of the 2030 Agenda for Sustainable Development and the new vision for the country involves achieving the objectives of sustainable development, peace and reconciliation.
President Sirisena who was scheduled to attend the Non-Aligned Movement's summit which started from September 13 to 18 skipped the summit and attended the 71st General Assembly of United Nations.