---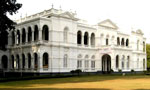 In response to a question regarding the damage caused to an antique Buddha statue, Cultural Affairs Minister S.B. Navinna said investigations revealed that a slight jolt had loosened the head of the statue at an event held at Temple Trees.
The Minister said nobody could be taken to task as it was not a deliberate act and asserted that the statue was restored, he said it had been handed over to the Museum.
There were reports that the statue dating back to the Anuradhapura era was damaged when it was taken from the National Museum to grace the exposition of the Buddha's sacred relics brought from Pakistan in view of Vesak Poya.
JVP Leader Anura Dissanayake raised a question in this regard in the House. The Minister replied that the head of this statue , dating back to the 9th century BC , had not been fixed with screws but stuck with a certain adhesive that prevailed in the ancient era.
Over the eras, he said, this bond had loosened, and a slight jolt triggered by the handling of the floor carpet at the event, aggravated it.
Prime Minister Ranil Wickremesinghe said a board would be appointed to govern the affairs of the Museum and the National Art Gallery.
He said artifacts from the museum were taken out during the previous rule,but they were not returned. (Kelum Bandara and Yohan Perera)