---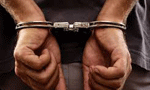 A husband and wife were arrested with more than 100 grams of heroin worth Rs.10 million in Borella this morning, police said.
Police said the suspects were residents of Maradana.
The woman aged 53 had been earlier arrested on several occasions on drug related offences.
Police had found 102 grams and 70 milligrams in the possession of the woman who was said to be the main suspect of the drug smuggling racket while 1 gram and 70 milligrams were recovered in the possession of the man who was a drug addict.