---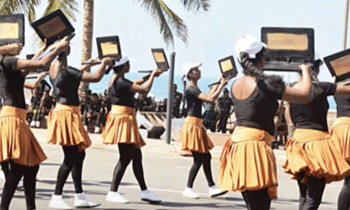 Authorities have scrapped the contorversial "laptop dance" by school girls during the main Independence Day parade in Colombo today, after the unconventional item attracted ridicule on social media, economynext reported
Unlike the erotic art of lap dance, the 21st century Sri Lankan version was performed by students dressed in black leggings, yellow skirts and black short-sleeved jackets to symbolize the computers given by the education department.
They were to rhythmically punch the air with notebook computer replicas made of wood and painted black and yellow to match their highly modest costumes.
The troupe was seen rehearsing on Saturday without the "laptops" and their teacher said they had orders to drop the props, but keep only the dance routine.