---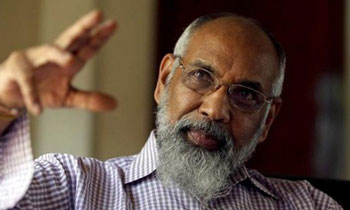 Northern Province Chief Minister C.V. Vigneswaran said that there is a conspiracy being hatched in Colombo to remove him from office.
He had made this startling revelation when a group of supporters walked into his official residence and expressed their solidarity with the CM with regard to the no-faith motion brought against him.
He said, "It is in Colombo that this conspiracy has been hatched. I do not like to reveal the persons behind it now. However, I will tell you how it happened."
He said the Council ministers knew that an investigation was going to be conducted into some of their activities.
"I have to decide whether to take action against them or not after examining the facts mentioned in the report. Whatever action I take those conspiring against me will get their way. If I decide that no wrong has taken place, they plan to say that I am shielding the culprits, if I punish those responsible for the wrong-doings, then they will still try to kick me out saying that I am wrong to do so. Either way, I am doomed. They will have their way. It is our own people who said that an investigation should be conducted. That is the reason why we appointed a committee to investigate these allegations," he said. (By Romesh Madushanka)