---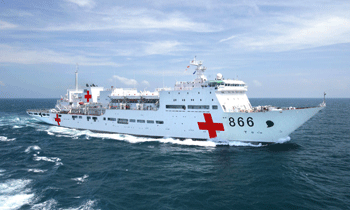 The Chinese People's Liberation Army (PLA) Navy's most advanced hospital ship 'Ark Peace' would arrive in Sri Lanka on a goodwill visit from August 6 to 9.
Issuing a statement, the Chinese Embassy today said the hospital ship would provide medical assistance to Sri Lankans free of charge on August 8.
"Upholding the concept of peace, development, cooperation and win-win as well as actively carrying forward international humanitarianism and Nightingale spirit, Ark Peace has been sincerely involved in actions to heal the wounded and rescue the dying, spreading friendship and love," the statement said.
It said Ark Peace had sailed altogether 170,000 nautical miles for over 13,000 hours, visited 29 countries covering three oceans and five continents and provided medical service to over 120,000 people overseas since her commission in December 2008.
The Chinese PLA Navy's hospital ship Ark Peace is a large maritime medical platform designed and built in China.
From August to November 2010, Ark Peace visited Djibouti, Kenya, Tanzania, Seychelles and Bangladesh providing medical service.
From June to August 2014, Ark Peace sailed to Hawaii and participated in the RIMPAC-2014 joint exercise. During the mission, she held four academic forums, participated in 13 multilateral medical exchange sessions as well as maritime rescue and other 56 exercises under actual combat background.
From August to September 2014, Ark Peace visited Tonga, Fiji, Vanuatu ,and Papua New Guinea ,where she provided medical service to 22,456 persons and successfully performed 212 surgeries.
From September 2015 to January 2016, Ark Peace visited 7 Pacific countries: Australia, French Polynesia, America, Mexico, Barbados, Grenada and Peru, and provided free medical service and humanitarian assistance.