---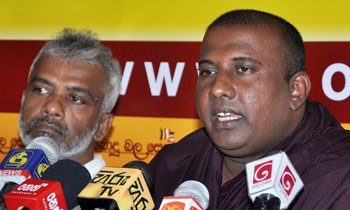 The BBS today challenged the President, Prime Minister and two former Presidents to state to the public that they accept the fact that many archaeological sites were being destroyed in the Eastern Province, while Muslim extremism prevails in the country.
The Bodu Bala Sena (BBS) Organization directed the challenge towards President Maithripala Sirisena, Prime Minister Ranil Wickremesinghe and former Presidents Mahinda Rajapaksa and Chandrika Bandaranaike Kumaratunga.
Addressing their weekly media briefing Sinhala Ravaya General Secretary Magalkande Sudaththa Thera said that these political leaders would definitely fail to make such statements in public because they were looking forward to winning the 2020 Presidential Election where minority votes were crucial to their cause.
"These political leaders are unable to admit the bitter truth because they have their sights set on the next Presidential Election. Additionally, the Muslim Ministers will not like to solve the country's problems via discussions, even if the Sinhala leaders wanted to. They are using the people as cat's paws by promoting racism and religious extremism. These issues can be solved if Muslim politicians do not interfere," the thera said.
On the other hand, if Minister Patali Champika Ranawaka and MP Athureliye Rathana Thera could speak about these issues in Parliament, then Ven. Gnanasara Thera would certainly be content to leave it to them and stay silent. "If they wish us to leave the country, we can do that also, but only if these issues are discussed in Parliament," Ven. Sudaththa said.
"BBS General Secretary Galagodaaththe Gnanasara Thera has been made the target for the wrath of the authorities as he was contracted by politicians, but he did not follow anyone's contracts. He only followed national interests for the betterment of the country. "If politicians continue to tarnish the name of Ven. Gnanasara Thera it would result in him contesting the 2020 Presidential Election.
"People now accepted him as a religious leader and will support him to become the President at the next election," Ven. Sudaththa said.
Meanwhile, Ven. Sudaththa Thera said Ven. Gnanasara Thera would be able to appear in the Supreme Court by Thursday (22) for the Fundamental Rights (FR) Petition only if the Police and relevant authorities assured his safety. (Chaturanga Pradeep)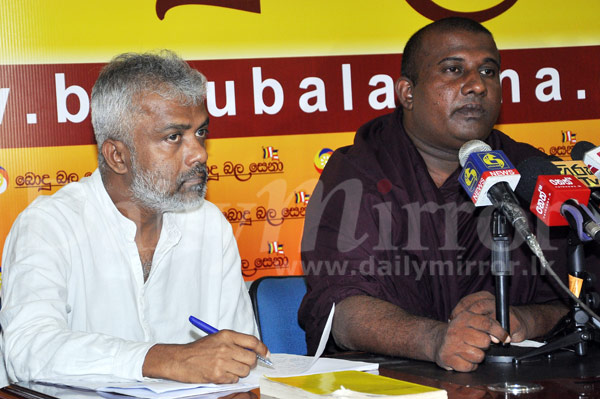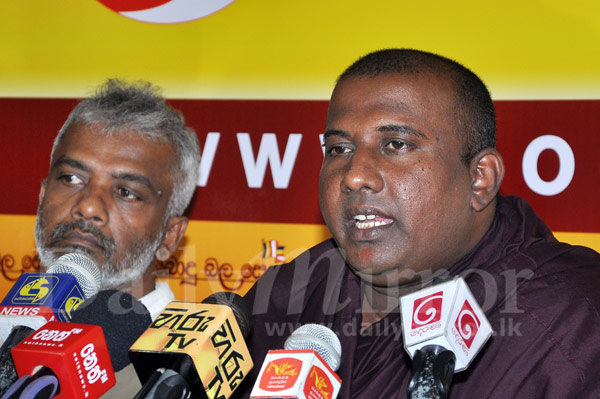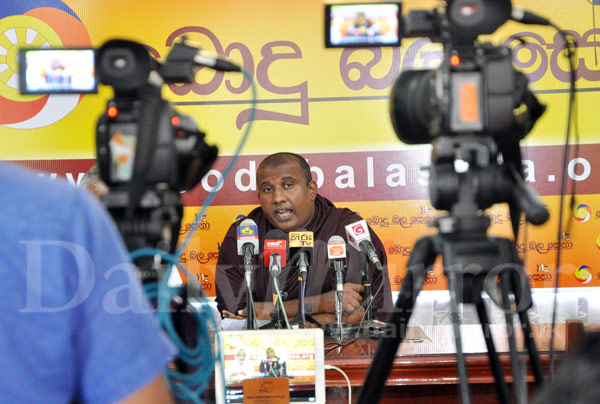 Pix by Nisal Baduge