---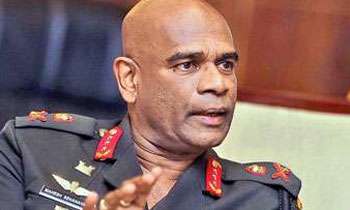 Army Commander Lieutenant General Mahesh Senanayake said that the Army was prepared to undertake the task of eradication of drug menace from the country, if powers were granted.
"Drug smuggling poses the biggest threat to our country as at present," he said.
"The Army is already playing a role in this regard to curb the menace by exchanging intelligence with the Police and the Special Task Force. We provide information we receive to the Police from both internal and external sources. So do the Navy and the Air Force," the Commander said.
Speaking to the media after attending the 69th Army Anniversary Flag Blessing ceremony at Anuradhapura Jaya Sri Maha Bodhi premises, the Army Commander said the Government expected to transfer legal powers to the Army to curb drug menace.
"We hope to eradicate this destructive menace from the country, if such authority is vested in us. Drug prevention should be carried out after coordinating all agencies together for creation of a better society," Lieutenant General Senanayake said.
Commenting on LTTE commemoration in North, the Commander said commemoration of war-affected late Tamil civilians was no issue since it was their prerogative.
"However, if the LTTE is commemorated, we need to be cautious and concerned. But a programme of that nature which lasts for about one hour or so would in no way pose a threat to the national security concerns. That is not to be interpreted a breakdown of national security as such," he said.
He said all three forces were well geared to face any national security threat at any time. "But no such question arises as at present," he said.(Darshana Sanjeewa)