---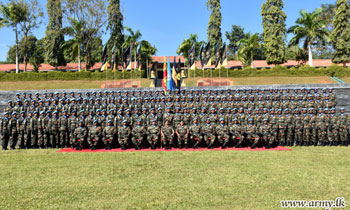 The first batch of the Sri Lanka Army's 12th Force Protection Company (FPC) consisting of two officers and fourteen other rankers left for the United Nations Interim Force in Lebanon (UNIFIL) on Sunday, Defence Ministry said.
Sri Lanka's 150-strong Army contingent is made up of 10 Officers and 140 other rank personnel drawn from 13 Regiments. It will serve in the UNIFIL for one year.
The FPC is responsible for security and VIP duties at the UNIFIL Force Headquarters in Naquoura, Lebanon and controls all the access routes to the UNIFIL Headquarters and is under command to the Force Headquarters Support Unit (FHQSU) which is directly under the Force Commander.
According to Army media, since 2010, Sri Lanka Army has dispatched 11 contingents to serve in Lebanon at the request of the UNIFIL.
Meanwhile, the second batch of 34 Army personnel left to join their compatriots yesterday morning (19th Monday). The remaining members of the 12th FPU contingent are scheduled to leave for Lebanon on 06th March. (Thilanka Kanakarathna)