---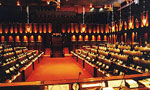 The 2017 Appropriation Bill shows an estimated expenditure of Rs.1,819 billion with an allocation of Rs.283 billion, the highest as usual, in the budget for next year and Rs.242 billion for the Finance Ministry.
The draft Bill, to be presented in Parliament on October 20, has been announced in the gazette.
It shows that Rs.160 billion has been earmarked for the Health Ministry, Rs.162 billion for the Higher Education and Highways Ministry, Rs.76 billion for the Education Ministry and Rs.164 billion for the Public Administration Ministry.
The government has allocated Rs.50 billion for the Transport and Civil Aviation Ministry and Rs.223 billion for the Local Government and Provincial Councils Ministry.
Rs.5 billion has been allocated for the president's office with Rs.3 billion of this amount to cover capital expenses.
Parliament will meet for a brief session October 20 to present the Bill. The budget speech will be on November 10. (Kelum Bandara)