---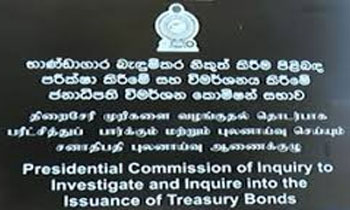 Arjun Aloysius' Personal Secretary, Steve Samuel was yesterday present with his Counsel at the PCoI after being summoned to testify before the Commission.
At the onset of yesterday's proceedings, Justice Chitrasiri questioned Samuel's presence inside the court room as Mr. Samuel was sitting and listening to the proceedings.
However, the counsel who appeared on behalf of Mr. Samuel said that he had received summons to appear before the commission and did not know when he would be called upon to testify.
Justice Chitrasiri thereafter directed Mr. Samuel to go outside the court room and wait till he is called to testify.
According to sources General Manager of People's Bank Vasantha Kumar has also been summoned before the Commission. (Shehan Chamika Silva)