---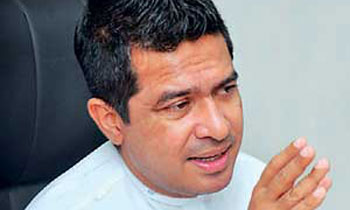 State Minister Sujeewa Senasinghe was involved in a showdown with joint opposition MPs D V Chanaka and Namal Rajapaksa yesterday when the two MPs informed Parliament that Mr. Senasinghe has had more than 54 conversations with Perpetual Treasuries Limited owner Arjun Aloysius.
A heated argument followed after Senasinghe started making allegations against the MPs. "Malli do not shout as I have appeared for your father and got him cleared when he was involved in a case involving some ships," Senasinghe said.
At this point MP Namal Rajapaksa inquired about the contents of the conversation that took place between the State Minister and Aloysius, which elicited a retort from Senasinghe about the validity of legal training obtained by MP Rajapaksa. "I challenge you to answer this question. Everyone knows how you sat for law examinations," he said.
Coming up with more allegations, Senasinghe brought up the subject of the Thajudeen killing. Undeterred, MP Rajapaksa challenged him to name the person who killed the former National rugby player. State Minister Senasinghe relented and refused to do so.
Later, Senasinghe told journalists that he is prepared to face any probe as he had nothing to be afraid. "I have nothing to be afraid of as I have not done anything wrong," he said. (Yohan Perera and Ajith Siriwardene)