---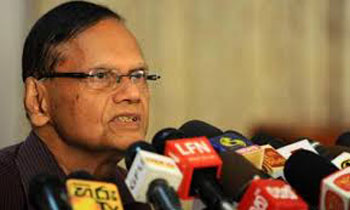 The joint opposition (JO) said today if returned to power, it would appoint a commission with the authority to take action against those involved in the Central Bank bond sales and those attempting to cover them up, under one of its governments.
Sri Lanka Podujana Peramuna (SLPP) Chairman G.L. Peiris said this would be one of the first decisions to be taken by JO government.
"A campaign is being carried out to conceal the real loss caused by the bond scam. Influencing Members of Parliament is also a criminal offence. The perpetrators should be taken to book. The MPs who were contacted by Arjun Aloysius should not hide behind privileges. They have not even informed the COPE Chairman or the Speaker about these conversations," he said.
Commenting on the upcoming local government election, Prof. Peiris said the SLPP paid deposits for the three districts of Kalutara, Galle and Gampaha on Monday and that deposits for the districts of Colombo, Anuradhapura and Polonnaruwa will be paid on Tuesday.
He rejected reports about the JO demanding positions to join the SLFP faction in the government.
"Mahinda Rajapaksa was an opposition leader, a prime minister and the president of the country. He doesn't need posts. This is not about positions but about principles. How can we join the government when we oppose its policies," he said.
Meanwhile, MP Bandula Gunawardena said the bond scam had a negative impacton four economic indicators with the CB's Weekly Economic Indicators showing an increase in the interest rates in the recent past.
"The interest rate, exchange rate, deposits and investments had been severely affected by the bond scam. For the three years of this government's tenure, the scam had incurred a loss of Rs.1,500 to Rs.2,000 billion. People pawning their valuables, engage in small and medium sector enterprises and constructing a house for themselves, face many difficulties today because of this scam," he said.
The MP said those engaged in large scale businesses were entertaining thoughts of suicide because of their inability to repay their loans. (Lahiru Pothmulla)