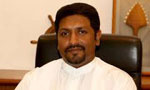 State Minister of Defence Ruwan Wijewardene said that statements portraying 'danger to national security' citing a recent report by the US State Department were baseless and made by persons with ulterior political motives.
In a release issued to the media, Wijewardene said that elements were using a report of the United States State Department as a base for such false notions.
"The President, the Prime Minister and I have placed utmost diligence in ensuring and furthering national security. There is not an iota of truth in the notion that national security is in danger. Every person who is promoting such notions in doing so with ulterior political motives," the statement said.
Wijewardene said that the basis of several visits by Foreign Minister Mangala Samaraweera was to ensure the dismantling of this international network.
"The government's foreign policy is aimed at strategically dismantling the terrorist networks world over and the fact that the LTTE ban has been extended in certain countries is an example of the dividends of this strategy," he said.
Wijewardene further said that the government was 'studying' the report by the State Department and would pay careful attention to its contents in order to ensure that national security was not endangered.