---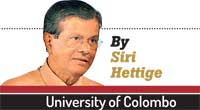 Market driven societies are prone to atomization. This is understandable. Given the fact that life chances of individuals are increasingly dependent on contractual relationships, i.e. employer-employee, political-patron and citizen-client, doctor-patient, private hospital-individual patient, tuition master-pupil, scientist and corporate sponsor, etc. most people do not see possibilities for finding collective solutions to their personal problems and miseries.

So, they tend to run around looking for money, which is the universally recognized medium that cements contractual relationships. Civil society initiatives to push for collective solutions to social issues, i.e. traffic congestion, environmental pollution, indebtedness, increasing cost of social sector services (health, education, etc.) often have no mass appeal as ordinary people have no time to worry about such possibilities. So, they tend to do whatever it takes to earn enough money so that they can pay tuition masters, private hospitals and doctors, lawyers, traders, three wheeler taxis, overseas employment agencies, people smugglers, etc.

In a country where many political leaders themselves are busy making money and distribute public resources largely through networks of political patronage, ordinary citizens do not come together to campaign for collective solutions to their problems through a rational policy process.

Sri Lanka achieved a great deal in terms of social development through progressive state interventions in the first few decades after political independence. These achievements have been remarkable given the low level of per capita GDP of the country during the above period. Land reforms, labour legislation, higher public investments in social sectors like health and education, etc. contributed to a significant improvement of life chances for a majority of people. Yet, population growth, unfulfilled aspirations for decent employment and other public resources and worsening terms of trade threatened to undermine social and political stability in the early 1970s'.

This situation prepared the ground for liberal economic reforms in the late 1970s. In brief, the market came to the foreground, pushing national planning to the background. What happened over the last four decades has been determined largely by the market forces and successive governments have failed to play a decisive role to adequately contain the corrosive effects of the market. Since money becomes such a critical factor determining the life circumstances of most people, even those who are entrusted with the responsibility of safeguarding public welfare became corrupt and have resorted to illegitimate ways of making money. The on-going competition on our roads to get ahead or find road space to drive one's vehicle is symptomatic of the ensuing struggles in society driven by the market. Similar struggles can be seen in many other spheres.

The on-going private struggles for space, money, clean water and air, etc. cannot continue for long, without making life miserable for more and more people. The state cannot remain in the background or become more exploitative and oppressive. Yet, so long as citizens remain locked in their private battles in the marketplace and did not find common ground to work together to advance collective solutions to social, economic and other issues, politics would also remain divisive and highly conflictual at all levels. For instance, it is obvious that private transport is not going to solve the transport problem in any country, not to mention other serious issues that increasing vehicle fleets have created in most parts of the world. Similarly, an entirely private, curative healthcare system is not going to meet the healthcare needs of a majority of people, besides creating many other problems in society, particularly for the vulnerable sections of the population. Many similar examples can be cited but the point has been made.

So the need for collective thinking and action is becoming increasingly obvious. The market mechanism alone is not going to help us solve diverse problems we face today. Liberal economic reforms have enthroned the market at the expense of collective efforts to deal with issues through sound, evidence-based public policies in diverse fields. While market has created unprecedented inequalities in society, it has also contributed immensely to the worsening environmental crisis that threatens the very survival of the planet, besides creating many other existential problems for an increasing proportion of the world population. While a drastic change in the way we are economically and socially organised to satisfy our diverse needs has become an obvious necessity, the state in alliance with civil society has to take greater responsibility in facilitating the transition. The formulation and effective implementation of sound public policies have become an important part of the above responsibility.

There is already enough empirical evidence coming from diverse fields of study that can be the basis of sound public policies and effective interventions. There are also many scientific innovations that can be used to solve problems in diverse fields in more desirable ways. Yet, those who feel comfortable with the status quo are unlikely to respond positively unless they feel the pressure, either due to their own realisation of the truth or due to irresistible popular pressure. Either way, a lot depends on how the public discourse is shaped by the changing ground realities. In this regard, the intellectuals and concerned citizens and journalists have a critical role to play.

---
Add comment

Comments will be edited (grammar, spelling and slang) and authorized at the discretion of Daily Mirror online. The website also has the right not to publish selected comments.

---