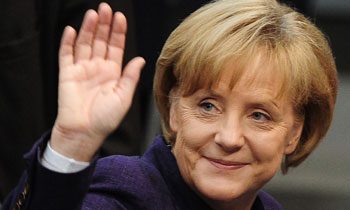 Angela Merkel has been sworn in for a fourth term as German chancellor, after months of political wrangling that left her weakened, the BBC reported today.
Germany's parliament earlier approved her re-election by 364 votes to 315.
Mrs Merkel has vowed to get to work quickly after the longest period of coalition-building in post-war Germany.
It is nearly six months since the election, Mrs Merkel's conservative Christian Democratic Union (CDU), Christian Social Union (CSU) bloc had its worst result in almost 70 years.
But she finally secured a coalition deal with the Social Democrats (SPD) earlier this month following a painful stretch of political deadlock.
It cost her several key posts - including finance and foreign minister - in Germany's new cabinet. After parliament confirmed Mrs Merkel's reappointment on Wednesday, she told MPs: "I accept the vote."