---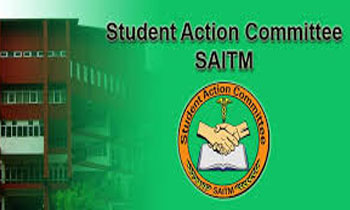 The Student Action Committee of SAITM today warned of uproars if they were left out of options to get their issues addressed by the authorities.
Convener Shanaka De Saram said it appeared that the government only listen to university students with aggressive behaviour, and therefore SAITM students too would consider such action.
Addressing a press conference, Mr. De Saram said that it welcomed the Government's decision to transfer the SAITM students to the Kotelawala Defence University (KDU) but should enrol all the SAITM students to it.
He said that although several committees were appointed to resolve the SAITM controversy non of them had asked their opinion when making the decisions, therefore its students had been severely mistreated over several years and had to do their studies with many difficulties.
Mr. De Saram said around 900 students were currently receiving their education from SAITM and all of them were enrolled with the relevant approvals of the University Grant Commission (UGC) and the Higher Education Ministry.
He said that the association stand with the Government Medical Officers' Association (GMOA) claims of sending qualified students to KDU as to what he repeatedly confirmed that all the SAITM students were qualified and approved by the UGC.
"Our only fear is whether the government would adopt any new regulations when awarding the degree despite what it had promised. If our students were continually pressured, SAITM students would have to resort to aggressive activities to gain its demands," he added. (Thilanka Kanakarathna)
Video by Buddhi