---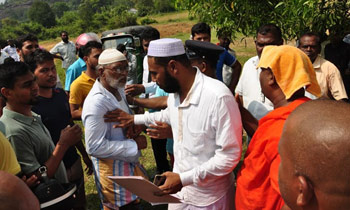 A tense atmosphere prevailed in Manikkamadu area, in Ampara yesterday when a group of Muslims protested against constructing a building for the historic Manikkamadu temple that has one of the Cheithiyas surrounding the Deegavapi Cheithiya. The protestors claimed that the land in question belonged to the Muslims in the area and not to the temple.
However the Maha Sangha including Chief Incumbent of the Manikkamadu temple Ven. Ambagahapitiye Seelarathana and Director of Pirivena Education North and East and Chief Incumbent of the Pulukunawa Rajamaha Vihara and the Aranthalawa Buddhist Centre Ven Kirindiwela Somarathana Theras said the a temple had existed there before the military conflicts and that they obtained permission from President Maithripala Sirisena and the relevant authorities including the Department of Archaeology, the Land Commissioner and the Government Agent.
Member of the Eastern Provincial Council Harris Samsudeen who came with a lawyer told the Buddhist monks that the building should be constructed with permission from the relevant authorities and that he was not aware that such permission had already been obtained.
Meanwhile ASP Manoj Ranagala who met the parties concerned said that the police would make a report to court in this regard to bring about a settlement. (Wasantha Chandrapala)