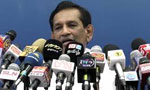 Cabinet Spokesman and Health Minister Rajitha Senaratne today asked whether Sports Minister Dayasiri Jayasekara had 'pittu' in his mouth when he was serving in the Rajapaksa Government.
He accused the sports minister of seeking cheap publicity by publicly claiming there were crooked and corrupt ministers in the unity government.
Responding to a journalist at yesterday's cabinet news briefing about the remarks made by the sports minister, Dr. Senaratne asked where Mr. Jayasekara was when the entire country and the global community were accusing the Rajapaksa regime of fraud and corruption and other crime.
"He should have discussed and resolved these matters at Cabinet meetings and spoken of them in public if there was no positive response to his grievances. I must say that I myself and ministers like Champika Ranawaka always raised many issues in the Cabinet of the previous government and even clashed with President Rajapaksa on many occasions. We discussed them in the open when there was no positive response to our grievances," Dr. Senaratne said.
Mr. Jayasekara must not attempt to score brownie points by talking to media and accusing government ministers and added that as far as he knew, there were no corrupt ministers in the Cabinet. (Sandun A Jayasekera)