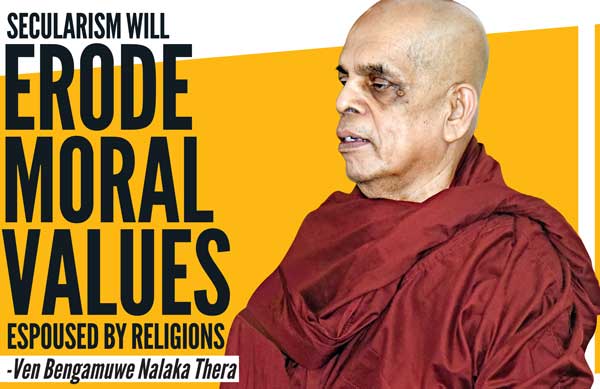 Q How do you see the political developments in the country?
For us, it is obvious that the government is not acting in a manner beneficial to the country. It acts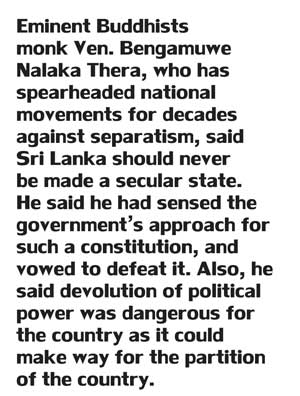 according to the interests of the sections of international community, it is obvious. Foreign Minister Mangala Samaraweera took steps for Sri Lanka to cosponsor a resolution primarily moved by the United States. This resolution, adopted by the United Nations Human Rights Council (UNHRC) in this manner, is detrimental to the interests of the country. It paves the way for an international war crime tribunal. Next, the Office of Missing Persons Act is there. It was enacted recently. A truth seeking mechanism is in the offing. That is not what is needed for the country.
That is done to appease the Tamil Diaspora. This is what the Western World is imposing on us at the behest of the Diaspora. This is not what our people asked for. Any government should act according to the interests of the people, not under duress by the external forces. So the Government's approach is not conducive for the country. These external forces helped in the installation of this Government. We cannot expect such a government to live up to our expectations. We raise this point for the Government to correct itself at least at this juncture.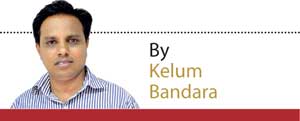 Unless the Government heeds, people will unseat the Government one day. Any government has to succumb to public pressure at one point. The number of MPs, supporting the Government in Parliament, is not what matters here. If people get disillusioned, that will suffice for defeating the ruling side.

Q What is the role you intend to play in this instance?
We will do whatever possible. We will use all possible platforms for it. In this respect, I have formed an organization called 'National Rights Movement'. It is a novel concept. We talk about national rights rather than confining ourselves to human rights. Under human rights, they talk about humans all over. In the world, there are other beings than humans. When we say national rights, it is a broad concept. It deals with a country, its people, its landmass, its airspace and territorial waters, its culture and history.

Q What are the real objectives of this organization?
We will work for the benefit of soldiers who fought for this nation. We will organize the relatives of fallen soldiers. We will launch an organization of them officially at our temple on October 2. Similar organizations will be formed at provincial levels, district and electoral levels. We will extend this up to Grama Seva Divisions. Alongside, we will also organize people in the North and the East, who lost their loved ones and properties due to the war. We will organize the custodians of places of religious worship destroyed in the war. We will not confine ourselves to only Buddhist Vihares here.

Q It means the organization will reach out to all ethnic groups affected by terrorism?
Yes, it belongs to all affected by the scourge of terrorism. We never alienate non-Sinhalese. Other ethnic groups should also feel that this is their country. Some Northern politicians turn to India or Geneva to voice their grievances . If they feel that this is their country, they won't do it. Our organization aims at achieving that. This National Rights Organization (NRO) is formed as a countermeasure for Human Rights Organization (HRO). We have already started the social media campaign. A website will be launched soon.

Q This organization is formed against the backdrop of a constitutional process underway. What are your views?
As for information that has surfaced as of now, there is a move to make this a secular state. There are proposals in support of separatism. Homosexuality is also sought to be given recognition. These are against our culture and civilization. We can foresee the nature of the proposed constitution going by what is happening now. We do not need a new constitution, in fact.

Q How do you make such foregone conclusions whenever there is not even a draft prepared at the moment?
The Government has no right to quash our criticism saying that it is baseless. We have noted the report compiled by the committee headed by Lal Wijenayake. This committee had deliberations right across the country and prepared a report on matters to be considered in constitution making. The Government appointed it, not anyone else. The Government cannot wash its hands off now. It should not bluff the people.

Q In your view, why shouldn't Sri Lanka be a secular state?
We hardly find secular states in the world. Even the head of the Catholic Church Cardinal Malcom Ranjith accepted that the foremost state for Buddhism should be retained. As a non-Buddhist religious dignitary, he too accepted it. Then, why can't Mr. Lal Wijenayake understand it? I cannot see why the government does not understand it. The Cardinal is even eligible to become Pope. Such a religious leader is also recognizing the foremost place accorded to Buddhism in Sri Lanka.

Buddhism is the founding pillar of our civilization. We have a culture and civilization based on it. It has had a positive impact on other communities living here- be it Tamils, Muslim or Burghers. It happens normally. The majority culture assimilates the others. It is a positive aspect. Buddhism does not advocate discrimination of any other community or religious group. Buddhism belongs to all. The Buddha preached for all, not solely for one group. We have to understand it. We, as Buddhists, have united to protect and foster it. Otherwise, it is a religion meant for all. When I deliver sermons, I address to all, be they Hindus or Catholics. Buddhism does not belong only to Sinhala-Buddhists. Yet, I agree that the Sinhala-Buddhists are the ones who protected it.
Our NRO is also an entity founded on the principles of Buddhism.

Q As a clergy, how detrimental is secularism for a country in your view?
There were attempts to make Singapore a secular state first. But, Singaporean leaders later decided to teach religions at schools including Buddhism in particular. They realized that Singapore would become an uncivilized place if religious teachings were cast aside through secularism. Humans differ from other animals because of their civilized behaviour. We will lose our civilized nature if we become secular. Religions are there to make people more and more civilized.

Q But, some argue that Sri Lanka should be made a secular state to ensure equal rights for all religious groups. What are your views?
It is a fallacy. If we become a secular state, we will lose religious values needed for morality in society. If it is secular, it means no place for religions. It is a situation where religions do not matter. We are for a non-secular state. Then, it does not mean the recognition of only Buddhism. It ensures space for all the religions. If we make this a secular state, all religions will lose their rightful status. We say that the government should look after the interests of all the religions.

Q What is your view on power devolution or sharing?
It is something not to be done at the moment. It should never be done in a small country like ours. In the event of power devolution, people within the devolved unit will try to rise up independently clamoring for separatism. It is a hindrance for development. We have one example. The North-East Provincial Council was formed with devolved power. Varatharajah Perumal was the Chief Minister. After a short time, he declared Eelam. The then President used his executive powers to nullify the move. That is the real danger of power devolution. It is not political power but administrative power that should be devolved to the periphery.
As for administration, we have District Secretaries. Then, there are Divisional Secretaries and Grama Seva Niladharis. On the other side, we have Ministers, MPs, local authorities and provincial councils. They should be empowered with administrative powers to develop their areas.

As for Jaffna, there are MPs. Also, the local bodies are functioning there. The devolution of administrative power is needed. If it happens, the need for political power sharing does not arise. Power sharing or devolution is a theme advocated by many trying to climb up the political ladder. Northern Province Chief Minister C.V. Wigneswaran wants to be the virtual king of the North. Tamil National Alliance (TNA) leader R. Sampanthan is paranoid whether he will lose power among the Tamils because of Mr. Wigneswaran.

In the upcountry, Tamil leaders do the same. Muslims also try for a separate unit for them. All vie for political supremacy in their respective areas. During the war time, these Tamil leaders stayed in Colombo. They did not travel in the war affected areas. Power devolution will only bring instability to the country.

Q How certain are you that the present trend of the government can be reversed?
It is a difficult task. But, it is possible to do. The countries such as India and the United States are behind the government. There is a huge international force with the government in making the new Constitution. It is not easy to thwart their efforts. However, the force of the people is more influential than anything else. If people turn against it, then no force can stop it.
If a referendum is declared, we will go all out to defeat it.

Q Who should give political leadership for it?
Former President Mahinda Rajapaksa's group should play a role in it under the banner of the Joint Opposition or whatever. Former Defence Secretary Gotabhaya Rajapaksa is also a popular figure in this camp. He is not willing to join politics. But, if a public demand comes in a major way, he will have to listen to it.