---
A senior journalist said that when he recently went to a private hospital to consult a specialist, there were three patients and as many as 12 marketing representatives of drug companies. This shows the magnitude and complexity of the medicinal drug crisis Sri Lanka is facing, some 40 years after the revered Professor Seneka Bibile was virtually forced to resign when the then government came under pressure from the United States and the powerful transnational pharmaceutical corporations widely described as the Big-Pharma mafia.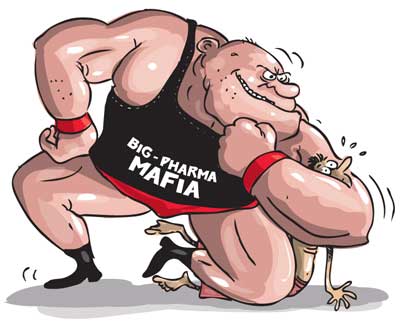 In Parliament last week, Health Minister Rajitha Senaratne – responding to a question from the Janatha Vimukthi Peramuna as to why the National Medicinal Drugs Regulatory Authority (NMRA) laws were not being implemented -- said he would gazette regulations from August 31. The Minister said the maximum profit would be 85% of cost, insurance and freight (CIF) value, though some media misreported him as saying there would be an impractical 85% reduction in the prices of medicinal drugs. The Minister has regularly said that some drug companies were selling drugs at a profit of 200% to 300% and what he intended to do initially was to restrict this profit to 85%. In any event some drug companies may spin doctor the CIF value and therefore a regular watch needs to be kept on the international price mechanisms.

While we thank the Minister for portraying or proclaiming a patient friendly policy or attitude, Health sector analysts say the issues are much more complicated largely because successive governments allowed the health sector to go out of control during the past four decades. Now millions of innocent and unsuspecting patients are being forced to pay for this folly, with or without price control mechanisms.

For instance pharmacology professors say more than 12,000 varieties of medicinal drugs have now been registered for import, prescription and sale. In relative terms this maybe somewhat of a world record though a dubious one. Professor Bibile, acknowledged worldwide as a prophetic voice in modern medicine, had proposed in 1971 that about 500 varieties of lifesaving and essential medicinal drugs would be sufficient to meet Sri Lanka's healthcare needs. Times have changed and perhaps today we need about 1,000 varieties but the politicians and officials who allowed this number to soar above 12,000 are responsible for the crime of medical negligence.

In March last year after a delay of more than 10 years, the National Government received parliamentary approval for the legislation to set up the NMRA and implement the essential medicines concept. Largely due to lack of staff, financial and other resources, the NMRA board was unable to start active work till November last year. The eminent Professor Laal Jayakody was appointed as the NMRA's Chairman and the equally eminent Professor Krishantha Weerasooriya as the Chief Executive Officer. During the past few months the NMRA refused to give no objection letters to several racketeering suppliers who wanted to import non essential drugs thereby Sri Lanka was able to save hundreds of millions of rupees in foreign exchange and more importantly patients were saved from the danger of taking unsafe or low quality drugs.

NMRA insiders say that some two months ago Prof. Jayakody and Prof. Weerasooriya were virtually forced to resign. The Minister says he told them to resign because the NMRA had failed to bring down the prices of drugs but NMRA insiders say they had no option but to resign because they were not being allowed to work independently as provided for in the law. Shockingly the pressure on them came mainly from top Health Ministry officials who apparently were acting on behalf of the Big-Pharma mafia for obvious reasons.

In July, Professor Asita de Silva, a Professor of Pharmacology at the Ragama Medical Faculty, was appointed as NMRA Chairman. But the People's Movement for the Rights of Patients (PMRP) and two other petitioners have challenged this appointment in the Court of Appeal, on the basis that Prof. de Silva has a conflict of interest.

Thus the patients need to be patient. A crisis that evolved for about 40 years cannot be fully settled in a few months. The NMRA needs to carefully check the safety, efficacy and quality of every registered drug in addition to the cost and the need for it. This will take time and we hope the NMRA will act with commitment to restore a health service where the well-being of patients is given
top priority.