---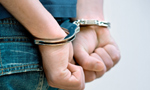 Two women and a man had been arrested by the Police last night over allegedly hooting at Minister of Land John Amaratunga at a function in Wattala on Saturday.
The Wattala Police had to escort Minister Amarathunga, when a group of people hooted at him after he arrived to lay the foundation stone for a Tamil school at Olyyamulla in Wattala.
People expressed their objection of the plan to put up a building for a Tamil school on a block of land that had earlier been reserved for a sports ground.
The Police stopped the protesters from entering the building site.
However, protesters forced their way into the premises and interrupted Minister's speech by hooting while the Minister was speaking at the ceremony.
The protesters burned an effigy of the Minister on the road and also caused damage to a vehicle belonging to a WP Provincial Councillor, who was present at the ceremony.
Police said yesterday the suspects, residents of Wattala, were arrested on charges of unlawful assembly and indecent behaviour.
They were produced in the Wattala Magistrate's Court today.(DS)