---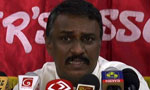 Members of the LPBOA would not engage in the bus strike announced by the All Ceylon Private Bus Owners Association, LPBOA Chairman Gemunu Wijeratne said today.
The ACPBOA earlier announced that it would launch an islandwide bus strike commencing July 3 midnight
ACPBOA General Secretary Anjana Priyanjith and several other private bus association representatives are demanding a 15 percent bus fare increase.
"If any person or association is trying to launch a strike after giving approval from the Cabinet Ministers, including President Maithripala Sirisena and Prime Minister Ranil Wickremesinghe, they should be considered as anti-government," Wijeratne said.
"As an association we would not take such clueless decisions and we are not going to participate in such anti-government activities," he said.
"The National Transport Commission still has the authority to give the percentage rate as 3.2. If the NTC does so, the bus service businesses will fail. The six percent bus fare revision was changed following a Cabinet decision and recommendations of the committee and it cannot be changed now," he said.
"No one can change a decision after approved by the Cabinet. The people who are going to protest also signed the approval papers for the 3.2 percentage bus fare revision.
"Somehow, if the islandwide bus strike was launched the Government can again come up with the previously approved 3.2 percentage," he said.
"We must be thankful to Transport Minister Nimal Siripala de Silva for immediately altering the bus fare revision percentage to six, considering the relevant criteria," he said.
"The six percent bus fare revision is more than enough for the transport industry based on the recent VAT increment," Wijeratne said.
Accordingly he said that the lowest point of a bus fare would be Rs. 9, which was previously Rs. 8.
"Rs. 12 fares will be Rs. 13, 15 will go up to 16," he said. (Chaturanga Pradeep)