---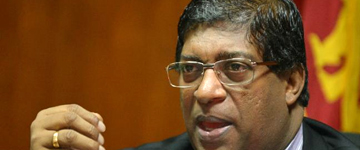 Finance Minister Ravi Karunanayake this morning told an investment forum in Singapore that the government would be looking at privatizing some of the non-strategic investments to cut public-debt.
He also said that the government would be listing another set of non-strategic state-owned bodies in the Colombo Stock Exchange in the next three months.
He pointed out that three-state owned entities—SriLankan Airlines, Ceylon Petroleum Corporation and the Ceylon Electricity Board— account for 75 to 80 percent of the public debt.
Karunanayke said Sri Lanka is aiming at 6 to 9 percent economic growth in the next five years and cutting the country's growing budget deficit to 3.5 percent of the GDP.
Sri Lanka's budget deficit is estimated to have hit7.2 percent in 2015 and plans to keep it under 6 percent this year.
The Central Bank Governor who also spoke at the event expressed confidence Sri Lanka growing at a rate of 6.5 percent in 2016 with Chinese investments continuing.
The country is estimated to have grown at 5.7 percent in the last year. (Indika Sakalasooriya in Singapore)