---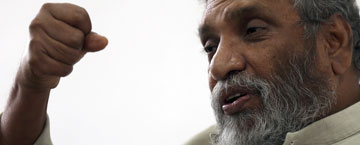 Elections Commission Chairman Mahinda Deshapriya said today the Election Commission would not postpone elections on the need of any interested person and that no one had been vested with the power to declare elections.

"According to the Local Government Ordinance, the Elections Commissioner can decide on the holding of elections six months prior to the expiry of the term of office of the respective local councils," he said.

Mr. Deshapriya said neither a government nor a political party would postpone elections for any reason other than for practical or technical reasons.

"The provincial councils are the pillars of democracy and there is no reason why any political party or government would want elections postponed," he said adding that the Elections Commission was keen to hold elections and Rs.3,500 million had been allocated this year for elections.
He said Local Government Elections was delayed on technical grounds based on the Local Government Ordinance and that steps would be taken to hold the electionsno sooner the Supreme Court delivers its judgement and when the report on the five-member committee headed by Ashoka Peiris is submitted to the Elections Commission. (Ajith Siriwardana)
Video by Aamantha