---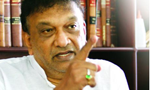 Condemning the manner in which the Higher Education Minister Lakshman Kiriella addressed a journalist of Ada Newspaper during a telephone conversation, the Joint Opposition today called all media rights organisations to come forward and raise their voice against the Minister's remarks.
The Minister's unethical vocabulary he used to scold the Ada journalist Amit Maduranga, was heavily criticised by people, after an audio clip of the conversation went viral on the Internet and social media.
The Minister had scolded Maduranga, when he inquired the Minister regarding a letter reportedly sent by the Minister, over an appointment of a temporary University lecturer.
Speaking at a media conference, MP Wimal Weerawansa asked whether this was how the Yahapalana Government's Higher Education Minister responds to a journalist.
"He is justifying him that in his capacity as the subject Minister, there is a provision in the Act to make recommendation and there was nothing wrong in doing so," Wimal said.
"Where are those so-called media rights organisations? Where is the Free Media Movement? Why is the Editors' Guild remaining silent? However, we could clearly witness the way the Government bared their real self in this short period of time," he said.(Piyumi Fonseka)
Video by Buddhi