---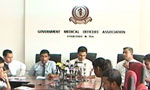 Weeks after the Indian media claimed that of an alleged kidney racket where Sri Lankan doctors were involved in, the doctors of the Government Medical Officers Association (GMOA) are now under a cloud because of an investigation launched by the Crimes Investigations Department (CID) over a 'printing mistake' in a booklet launched by the GMOA in 2012.
The GMOA had launched the booklet titled 'Establishment of Specialist registry and introduction of an evolution procedure for foreign medical specialists' on hazards of unqualified Indian doctors' practicing in Sri Lankan private hospitals.
The booklet has come out parallel to a programme of the GMOA with the collaboration of the Health Ministry which was then held by President Maithripala Sirisena.
The GMOA Secretary Dr. Nalinda Herath, said he had been questioned last Friday (12) over the 'printing mistake' and according to the sources, the President of the GMOA Dr. Anuruddha Padeniya would also be questioned in the coming days.
The questioning of the GMOA Secretary by the CID has taken place in the following day after a protest was launched by the United Professionals' Movement consisting of professionals in the government sector including the GMOA members.
Speaking to the Daily Mirror, Dr. Nalinda Herath said they were doubtful as to why it took 4 years for the CID to launch an investigation into the matter.
He suspected that the move was an attempt of the government to silent the government sector doctors for opposing the proposed Indo-Sri Lanka Economic and Technology Co-operative Agreement (ETCA) from which doors will be open for Indians in Sri Lankan fields.
"The GMOA had launched the booklet and an evolution process after a number of heart patients has come to the national hospitals with complications in their open-heart surgeries carried out in private hospitals by unqualified Indian doctors who call them specialists. Then Health Minister Maithripala Sirisena also praised our programme. We are doubtful about the sudden CID investigation," Dr. Herath said.
"The first attempt to tarnish our reputation was the alleged kidney racket. Now, it is a printing mistake. We condemn this move and we are informing the President Maithripala Sirisena regarding the matter through a letter," he said.
He said that according to sources, the complaint to the CID over the printing mistake had been lodged by a political supporter of a powerful minister in the current government. The sources had informed the GMOA that the CID had received telephone calls from the Prime Minister's Office urging to start investigation as soon as possible.
However, the GMOA stated that unless the government takes action to stop curbing the doctors of the GMOA, they will be contemplating on an island wide strike action without prior notice.
Quote: The first attempt to tarnish our reputation was the alleged kidney racket. Now, it is a printing mistake. We condemn this move and we are informing the President Maithripala Sirisena regarding the matter through a letter (Piyumi Fonseka)