---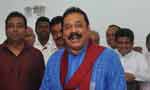 Ex-president and Kurunegala District MP Mahinda Rajapaksa said today he hoped the SLFP MPs and ministers, who had joined the government, would soon make up their mind as to which side they belonged.
"The people voted for the SLFP to be either in the Government or in the Opposition," he said at the opening of his public relations office at Nelum Mawatha in Jayanthipura, Battaramulla.
Mr. Rajapaksa said there was no real opposition in Parliament though there was an Opposition Leader and a Chief Organiser and the duties of and opposition was being performed by the UPFA MPs of the joint opposition. "They too are not given enough time to express their opinion in Parliament," he said.
Mr. Rajapaksa said his new office would act as a platform to people and trade unions to raise their voices and discuss issues. "I'm always with the people and I'm ready to solve their problems," he said.
Meanwhile, he criticized the comments made by United Nations High Commissioner for Human Rights, Prince Zeid Ra'ad Zeid Al-Hussein that the judiciary of Sri Lanka had become highly politicized and biased.
"I, as a lawyer, condemn the comments made by Prince Hussein. I hope our judiciary will prove that his remarks are false. Otherwise, our people will be helpless," he said.
Commenting on his son Yoshitha's arrest, Mr. Rajapaksa said Yoshitha was not the Director of the CSN and had he been the Director, he would have advised him how to run the company without being indebt to anyone. (Lahiru Pothmulla)