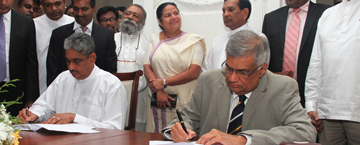 The Democratic Party (DP) led by Field Marshal Sarath Fonseka on Wednesday joined the United National Front (UNF) after signing an MoU with the UNP- the leading party of the alliance.

Though there were strong speculation that Field Marshal Fonseka was to be appointed to Parliament to fill the vacancy created by the demise of Minister M K. A. D. S. Gunawardene and would be given a Ministerial portfolio, both parties said no final decision had been taken on these matters.

It was reported that the decision to appoint Fonseka as an MP would be taken at the UNP Working Committee, expected to meet on February 8, 2016.

Premier Wickremesinghe, who spoke after the signing, said talks with the DP began in December last year and the MoU, was to be signed in January but had to be postponed as he had to go out of the country.

Meanwhile, Mr. Wickremesinghe went on to say that a certain group had requested the people not to hoist the national flag to celebrate independence.

He questioned as to what flag the countrymen should hoist on the Independence Day.
"Do they want people to hoist the Eelam Flag?" he questioned.

Field Marshal Sarath Fonseka said his party had decided to join the UNF alliance led by the UNP to launch a programme to introduce a decent political culture and to establish a system of good governance.

"We were on a long journey to achieve these goals earlier as we did not want to take shortcuts, but now we have decided to go on this journey with a leading political party," he said.
Besides he said it was no point allying with the UPFA as its symbol, the betel leaf is spoiled by pests. (Yohan Perera)
Video by Richan