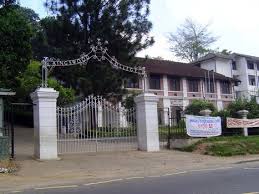 The Principal, of Kingswood College in Kandy, has been interdicted on charges of violating Education Ministry circulars by collecting Rs.3.6 million from parents saying it was for the purpose of constructing a new building for the school, the Education Ministry said today.
This matter came to light on the basis of an audit carried out on the instructions of the Education Ministry Secretary. The Principal had allegedly collected Rs.3,625,000 from parents when admitting their children to Grade 1.
The Education Ministry said it was in the process of granting the school Rs.70 million for the construction of a four-storey building, but by then the principal had allegedly collected the funds from the parents.
According to the audit the Principal had obtained Rs.50,000 each from 65 parents, while another parent was asked to pay Rs.75,000, with two others having paid Rs.150,000 each.
The ministry said collecting money from parents in such a manner, for an school building, not included in the school's budget estimates for 2016, had violated four of its circulars.
The statement also said that there were several other schools where similar violations had taken place, and that ministry officials had been instructed by Education Minister Akila Viraj Kariyawasam to take action regardless of the status or popularity of the school. The Minister had also instructed the officials to take steps to return the funds collected to the parents.
(Chaturanga Pradeep)