---

Sri Lanka's rise as a global tourism destination was recognized at the 22nd Annual General Assembly of the United Nations World Tourism Organization that is
currently underway.

The bi-annual meeting is currently taking place in Chengdu, China from the 11th to the 16th of September. It will discuss how to advance the contribution of tourism to the Sustainable Development Goals (SDGs) and define the actions of the Organization for the period 2018-2019.

Sri Lanka is being represented at this meeting by the Minister of Tourism Development and Christian Religious Affairs, John Amaratunga who was bestowed with the honour of being elected as a vice chair of the UNWTO General Assembly by the Committee on South Asia. "This appointment shows the recognition that Sri Lanka has gained as an upcoming tourism destination. It will help me to portray Sri Lanka and its unique attractions to the leaders of world tourism. It is indeed an honour and I will leverage this appointment to put Sri Lanka in the world tourism spotlight," said Minister Amaratunga. Sri Lanka Tourism has fought multiple battles throughout this year starting from the airport closure for four months, to the devastating floods in the south to the garbage crisis followed by the dengue issue, all of which have been negatively highlighted by the
international media.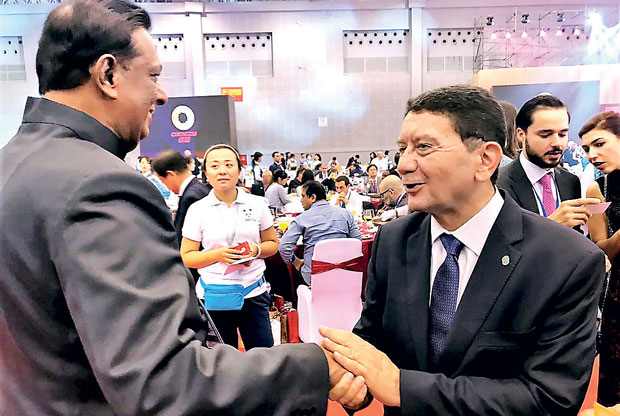 "These unfortunate events which were beyond our control have obviously had a negative impact on arrivals this year and it is only now that there is a conducive environment for inbound tourism.
Despite all this it is indeed reassuring that arrivals are beginning to pick up once again and we are very confident of achieving our targets for this year," noted Minister Amaratunga, adding "I hope there will not be any other disruptions in the next
four months." Meanwhile Secretary-General, World Tourism Organization (UNWTO) Dr. Taleb Rifai, described the 22nd UNWTO General Assembly as a "A unique opportunity to get the sector united towards the common goal of making tourism a true driver of sustainable development."

Minister Amaratunga was also a panelist on the high-level debate on tourism and SDGs. A special session on smart tourism, the celebrations of the International Year of Sustainable Tourism for Development 2017, the conversion of the UNWTO Global Code of Ethics into an international Convention and current trends of the tourism sector are included in the agenda of the 22nd session of the UNWTO General Assembly. The Assembly will also discuss an action plan and key priorities of the Organization for the next
two years.