---
Havelock Sports Club was made to pay for a dreadful second-half display by CH and FC who clinched a thrilling 27-25 victory at Havelock Park on Saturday.
Their defeat to Rohitha Rajapaksa's side meant that Kandy extended their lead at the summit of the points table to 16 points, but the race for the second place is now well and truly on with five teams having a realistic chance of being the runners up of the 2017/2018 season.
The Park Club is still to face the likes of Kandy, Navy and CR in the second round which is why the defeat to CH was huge a blow for them.
Havies though were in the lead for most of the game but could not capitalise on their opportunities especially in the second-half. Head coach Sanath Martis would be livid with the performance of certain players who committed some uncharacteristic mistakes during the game. However, it takes nothing away from CH and FC.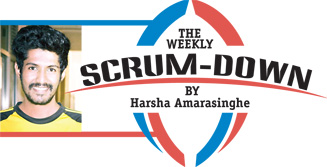 They have had a tough week in the build-up to the match; being in the headlines obviously for the wrong reasons, but on Saturday they looked so desperate to win and they achieved so by playing their hearts out.
It has been an unbelievable season for young Samuel Maduwantha; for someone playing his first inter-club season to be so influential to his side is indeed an amazing achievement and once again it was a drop goal from him that proved to be the difference between the two sides.
It was seen that at the end of match, the CH players were singing 'Happy Birthday' to Havelock fly-half Dulaj Perera which is horrendous. CH and Havies are two of the biggest clubs in the country and there has to be a big rivalry between them for the betterment of the country's club rugby. It is thought that a shake of hands with Dulaj would have been a much better option unless of course CH have plans to land the former Peterite to Maitland Crescent next season.
No drama at Ratmalana
Kandy's defeat in Ratmalana last year was a sporting miracle. On Saturday, the champions were playing an Air Force side which has only improved since then in terms players' capabilities, but they look like a team in absolute disarray.
Having sacked two head coaches in three months, one would not be surprised by how disorganised they were despite Kandy being a team full of super stars, just like last year.
Wing three quarter Danush Dayan excelled for the visitors in that massive win of 64-12, with another brace making it four tries in two games, but is likely to make way for Richard Dharmapala next week.
It is fair to say that they have already secured the title although it is yet to be confirmed numerically.
Cops go down fighting
CR and FC climbed up to fourth place in the points table with a narrow win of 33-31 over Police Sports Club having finished the first round of the competition at sixth place.
The Red Shirts however should consider themselves slightly fortunate to be winning their last two games. In the previous week they toiled hard to beat an Army team which played with 14 men for more than an hour while on Saturday Police almost staged a dramatic comeback win only to be fell short by two points.
CR were outmuscled by the Cops in the latter stages of the game, and forwards must take the blame for conceding three late tries, and it was felt that they could have even been beaten with little bit more time.
Weerasinghe shines in Navy win
Navy full-back Thilina Weerasinghe racked up 18 points as they defeated Army Sports Club 28-10 in their second round encounter at Havelock Park.
Weerasinghe scored two tries and booted over four conversions scoring more than half of his side's points while Army's disappointing start to the second round continued with another defeat.