---
By Kalani Kumarasinghe and Sheain Fernandopulle
Months after Sri Lanka hailed curbing community transmissions of Covid-19, an apparel worker in Divulapitiya tested positive for Coronavirus, raising fears and inducing panic buying in many parts of the island. Officials are now scrambling to trace contacts and place associates of the patient under self-quarantine.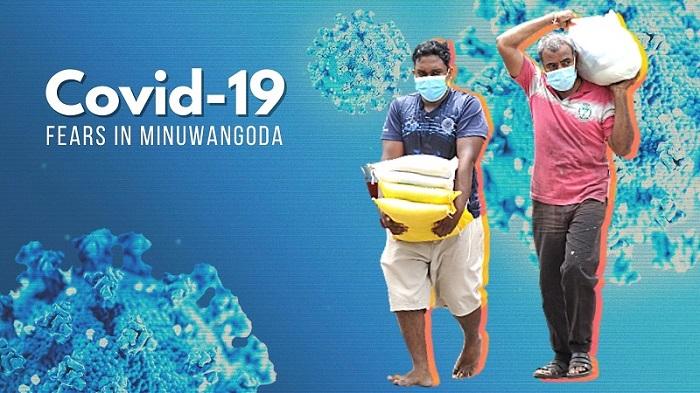 What we know so far
On Sunday, reports confirmed that a 39-year-old female tested positive for Coronavirus, following treatment for acute respiratory issues at the Gampaha Hospital. As a routine PCR test before her discharge confirmed that the patient tested positive for Covid-19, she was promptly transferred to the National Institute of Infectious Diseases (IDH). Meanwhile the Department of Government Information said more than 50 persons were initially identified to have been in contact with the patient, who had been placed under self-quarantine. Some 15 staff members of Gampaha hospital too were placed under self-quarantine.
With the 16-year-old daughter of the COVID-19 patient also testing positive for the Coronavirus, the Ministry of Health issued a directive to close islandwide schools from October 5, due to the detection of Coronavirus positive patients from the community level. However no decision had been taken to postpone the Grade 5 scholarship examination or the GCE Advanced Level examination yet.
The 39-year-old patient's husband and three other children who tested negative for the Coronavirus, were taken to the quarantine centre in Habaraduwa. The Ministry of Health also warned of an emergency situation, adding that every precaution should be taken by the public to prevent further spread of the disease.
Meanwhile Police curfew was imposed with immediate effect in Divulapitiya and Minuwangoda police areas until further notice on Sunday. Head of the National Operation Centre for Prevention of COVID-19 Outbreak (NOCPCO) Lieutenant General Shavendra Silva said that curfew was imposed until the index case from which the Divulapitiya patient had contracted Covid-19, was verified. Authorities however have been unable thus far to verify the index case from which the Divulapitiya patient contracted the virus.
Cluster number 33
By Monday, a further 69 persons who were subject to PCR tests at the Minuwangoda apparel factory tested positive for Covid-19, making it Sri Lanka's 33rd Coronavirus cluster. The 69 persons were identified after carrying out PCR tests on 150 persons employed at the Minuwangoda factory.
1,400 employees of the apparel factory are to be subjected to PCR tests. Brandix, the apparel factory in question issuing a statement said that rigorous protocol was implemented across the company, following the detection of the patient in its manufacturing facility in Minuwangoda. While this new cluster brings Sri Lanka's active Covid-19 cases to 199, the total number of cases reported in Sri Lanka has risen to 3,471. Sri Lanka has reported only 13 Covid-19 deaths —a relatively low figure— while 3,259 patients have been treated and discharged from treatments facilities.
Public health and security officials scrambling to trace contacts of COVID-19 positive employees of the Minuwangoda apparel factory, are however now faced with difficulties in identifying residential details of workers and associates.
Speaking to Daily Mirror Secretary of the Public Health Inspectors Union Sri Lanka (PHIUSL) M. Balasooriya said PHIs are grappling with the challenge of tracing the exact residential details of employees.
"The records we have obtained mostly show permanent addresses of employees. However during investigations we found that most employees do not reside at these locations," he said.
"There are also those who have been long term employees of the company, but are residing in different addresses to those available on record. PHIs are therefore struggling to find the exact whereabouts of a number of people" Balasooriya added.
Furthermore the PHIUSL Secretary observed that employees have been reluctant to provide accurate details of their own travel and association history. "While conducting routine investigations, we observed that most employees tend to conceal their activities or associations, in fear of revealing personal relationships of others and themselves." Balasooriya urged the public to take into consideration the gravity of the situation and to cooperate with officials in carrying out their duties.
"If people are reluctant to share details publicly, we encourage them to share details in confidence. They can contact their respective PHI and provide details. We will ensure that their privacy is respected and will not divulge sensitive details to the public," Balasooriya assured.
He added however, as there were many such cases where officials have been unable to obtain accurate details, assistance of the military has been sought in contact tracing efforts.
Meanwhile more persons associated with the Brandix employee cluster have tested positive for Covid-19 in Kurunegala, Monaragala, Jaffna, Minuwangoda, Katana, Seeduwa, Divulapitiya, Meerigama, Ja-Ela and Mahara, bringing the total reported cases within a day to 101, by 9 pm on Monday evening.
Earlier in the day over 90 students and teachers of the Divulapitiya school which the 16 year old patient attends, have been subjected to PCR tests, while more than 60 students of the Sabaragamuwa university are to undergo PCR tests.
Authorities said 2,000 persons including the Minuwangoda factory employees, their associates and schoolchildren will also be subjected to tests today. The decision had been taken following a meeting with Minister of Health Pavithra Wanniarachchi, in order to prevent rapid community spread of the disease in Gampaha district, a district with the highest population density in the island, after Colombo.
Addressing a media briefing Chief Epidemiologist Dr. Sudath Samaraweera said the Minuwangoda cluster and its containment will be decisive in managing further community spread of Covid-19. "The risk of community transmission is far greater with this cluster," he said.
Dr. Samaraweera has been critical of several decisions taken over the past few months to permit large public gatherings, stressing that Sri Lanka was not out of the woods in eliminating Covid-19. The President's Media Division this evening said no decision has been taken to impose curfew due to the present situation in Sri Lanka.