25th death anniversary of D. G. F. Walter falls on first of September. He was a leading lawyer, social worker and a writer. He passed away most peacefully on 1st September 1996 at his residence "Lucil-Lena", Kuda Paiyagala at the age of 95. His remains were interred at St. Mary's church burial grounds at Kuda Paiyagala.
Early Life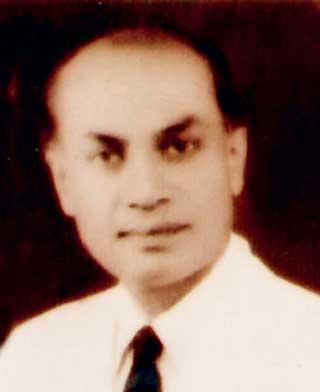 Walter was the eldest in the family. He had his education at Roman Catholic school Paiyagala, Holy Cross College Kalutara, St. Joseph's College Colombo where he passed the Cambridge Senior and Landon Matriculation. In 1919 Rev. Fr. Legoc appointed him as a Botany teacher at Holy Cross College Kalutara. In 1921 he joined the Law Collage where he passed out as a proctor and Notary in 1925.

He took his oaths on 21st April 1925 under a European District Judge W. H. B. Carbery. According to the register he wrote the first deed on 4th June 1925. There is no proper record of the first case he appeared for.

In 1926 he got married from Beruwalla. Walter was Honest, Humble and fearless. He was always kind and considerate to his clients. He did not pester the poor and did not bargain for legal fees from his clients. He told his clients to settle their problems without going to courts his opinion was "Let Law be the Last resort. He was always conscious of his duty towards the court. He was a man of courage who asserted himself as occasion demanded there by earning the respect and regard of the judges and suiters.
Devout Catholic
He was methodical and punctual. He took an active interest in social and religious affairs. He was president of the catholic young Men's association and served in the executive committee of Catholic Union. He contributed articles to Catholic and other papers.

On Rector's day 1926 he organized the Post Student Association of Holy Cross College. He was the President of Paiyagala Samithiya and Gramawardana Samithiya. In 1930 Walter functioned as an executive committee member of the Ceylon National Congress where they decided to wear white suits.
Versatile Human
He took a great interest on revival of National Industries (Liquor and fishing) and against diverting the river through the village. He was a pioneer of the Co-operative Movement. He was the founder president of the co-operative Credit Society in Paiyagala. He was the President of Co-operative Stores Society. He was awarded the Co-operative Medal and a certificate for his service.

He was exalted to the position of president of the Kalutara Bar Association. He was honored as a Justice of the Peace and Unofficial Magistrate. He acted as a District Judge of Kalutara. On completion of 50 years in his profession his portrait was unveiled. Walter gave up his practice in 1986 and continued notarial work at his residence at Paiyagala. As a proctor and notary he had a record in Kalutara District as having attested 41 deeds on the same day 5th April 1972.

Walter wrote several books on the history of Kalutara both in English and Sinhala His masterpiece was "In and Out of Kalutara Courts" book 1 and 2.
May He Rest In Peace.
Grand Daughter-In-Law,
Probodhi Jayawardena
District Secretariat Kalutara.