He was awarded a special plaque for his outstanding contribution to the tea industry by the Wayamba University of Sri Lanka
My father hailed from a family where he was the youngest of 3 brothers. He had virtually no recollection of his father who passed away when he was 2. His mother had to take over responsibility of managing the huge ancestral estate in Eheliyagoda comprising over 1000 acres of rubber plantation. Subsequently the family retained no more than 200 acres with nationalization that took place following the land reclamation act in the 1970s.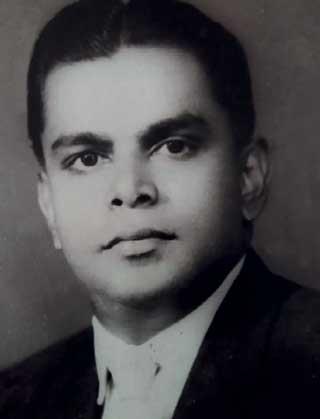 My father joined his brothers at boarding school at Wesley College where he completed both his primary and secondary education. He has fond memories of boarding school life. It was just a week before his demise that he asked my daughter to read his school leaving certificate which he had proudly laminated and retained on the mantelpiece at home. Quote 'Clinton has been a student of Wesley College from January 1946 and throughout this period, he has been in the school hostel. He was an ideal hosteller, who contributed a very large share to the spirit and tone of the place.

There was no activity in the school or hostel in which Clinton was not in. He represented us in more or less all the spheres of activity - in games Athletics, Cricket, Tennis, Hockey, Volley Ball and Table Tennis, he excelled. As an amateur actor he is a class by himself and in all school and hostel dramas, Clinton had a main part to play".....the certificate ends with the comment 'with the greatest confidence I recommend him as one of our very best products'
He joined the prestigious profession of planting at the time after completing a degree in agriculture from the university of Peradeniya. He was a member of the Finlays agency house and built a strong network among the upcountry plantation fraternity. As a child I remember moving residence from sprawling plantation bungalows in Nuwara Eliya to Hatton to Kandy finally to the Head Office in Colombo as he steadily rose from the ranks to ultimately becoming Chairman and Board Director of JEDB and a member of the Tea Board. He went through many setbacks. In his early fifties he commenced his own plantation management consultancy practice whilst taking an active interest in managing our own ancestral properties in Eheliyagoda.

He was extremely diligent in his work. As a kid I have memories of his tea tasting and listening to his many speeches.

He took great pride in the fact that plantations under his command were consistently top of the league. He represented the country in many international tea forums.

His crowning moment, however was when he was awarded a special plaque for his outstanding contribution to the tea industry by the Wayamba University of Sri Lanka at the international tea conference in 2017.

He was an active member of both the Rodrigo Friend in Need Society Panadura and UJ family Moratuwa and participated in all their activities.

Although he was a Methodist by birth he was a close devotee of Mother Mary.

His greatest disappointment by far was losing my mother 8 years back.

My father was a unique personality, a visionary, who rose from the ranks to reach the top of his profession through integrity, hardwork, discipline, exceptional commitment and a genuine commitment to people he interacted with. He died peacefully at his home in Colombo 5, at the ripe old age of 87.

Thank you Thathi for being a wonderful role model. You may be gone from my sight but you have never gone our of my heart.
Dilshan Rodrigo